Unique Ideas for Maternity Photoshoot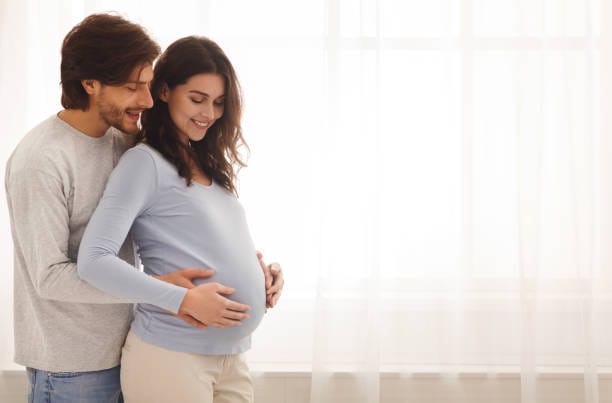 Dazzle your Bumpy ride with these Maternity Photoshoot Ideas. Treat yourself with these absolutely adorable maternity photoshoot ideas that include some of the classic maternity photoshoot indoor and outdoor ideas.
Pregnancy is a joyous occasion that needs to be remembered and reminisced and nothing, but a maternity photoshoot would justify it. When photoshoots are the best way to revel in the joy of a new arrival, why stick to conventional ideas. Hop on to some of our amazing maternity photoshoot ideas for you to go whole nine yards for your baby to make this nine-month journey wonderful and special. We have also included some inputs below which will give an idea about when to do a maternity photoshoot especially if you are expecting a baby for the first time.
In this article:
If one thinks about maternity photoshoot ideas, location is the first thing that comes to one's mind. But before planning on a location you may have to invest on a professional photographer. There is no dearth when it comes to that but choosing the best maternity photographer who will empathize with your needs and resonate with your expectations is very necessary. Since they not only come with entire paraphernalia of photoshoot but also with a compelling sense of creativity and strong expertise of the domain, you will have a seamless experience thereby making your maternity photoshoot memorable and worthwhile.
Indoor Maternity photoshoot Ideas
Indoor Maternity Photoshoot is most viable of all the maternity photoshoot ideas. It is fun since you don't have to worry too much about the whole world staring at you nor about the uncertain weather. It also saves you from packing props and travelling to a new setting which is vital in outdoor maternity photoshoots.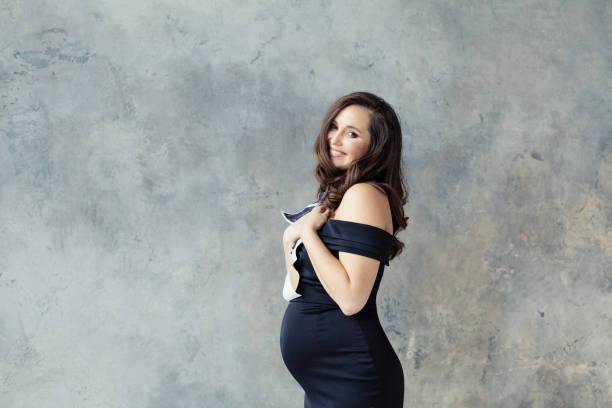 Maternity photoshoots at Studio:
A maternity photographer's studio is perfect setting if you are hunting for indoor maternity photoshoot ideas. Brainstorm and list out all your ideas when you are having a pre-shoot session with your photographer. Since they are a powerhouse of ideas and their studio is a storehouse of all things necessary for the photoshoot, you can look into various props and choose something that you are comfortable with. A studio is also a best option as the artificial lightings can be used and tweaked according to photographer and imagery's sensibilities.
Maternity photoshoots at home
If you want something relaxed and natural with bare minimum props, home is the best option. Home is your space, your abode and where you can be just yourself. Having said that, planning a maternity photoshoot at home requires your complete involvement in ideation and imagery. You can play around with your home décor, artifacts and walls and that brings a sense of personal essence in the photographs along with your baby bump.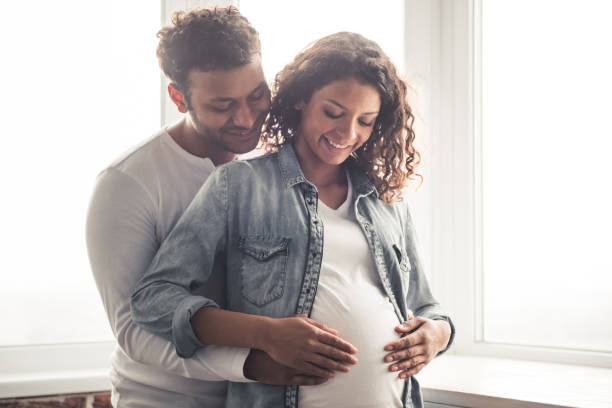 What are the maternity photoshoot ideas when taken at home?
Lounge in your couch

Though home is a comfortable place, there are some nooks and corners where you feel most comfortable and relaxed. Couch is one of them. Lounge in your couch with different positions. Wear your comfortable maternity wear and create warm and fuzzy memories with your bump.
Sibling Revel-ry

Older siblings add more emotional feel to a photograph. They connect with the baby bump through their innocence and un-glam appeal. They are as excited as parents to meet their baby sister or a brother. And guess what they don't need extra props, but their smile and cute face are enough to grab all attention. While including them in the photographs, make sure they rest their hands on your baby bump. Candid pictures while they talk or caress your baby bump add sweetness to your family portrait.
Haul your walls

You must have tastefully decorated your home walls, so instead of artificial backdrops drag the walls and make your photoshoot look picturesque or if you have monochromatic wall décor, try silhouette photoshoots as they will accentuate your adorable baby bump, outlining them and making them more pronounced.
Engage with your passion

Artists can use their passion to their advantage. If you are an instrument player, bring the instrument in front of your camera and take poses in different angles. Trust me, the inner glow is at the highest point when you engage with your passion. If you love reading books, let them become your prop and take natural shots of you reading a book to your bump.
Outdoor Maternity photoshoot ideas
We all know natural source of light adds its own element of magic in pictures. If indoor maternity photoshoots have its own plus, outdoor maternity photoshoots come with slew of advantages too, making them much sought-after maternity photoshoot ideas of all.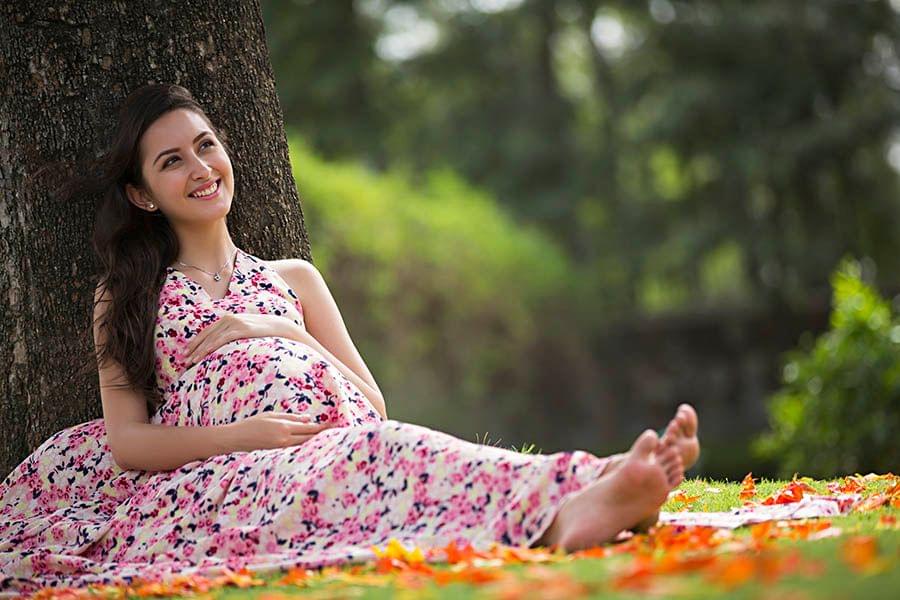 Green thumb for your bump

If you and your partner love gardening or being around with greenery, this idea works best for you. Coolness pervades in the lush green fields. Not just that, green is a versatile colour that does not need much retouching from the photographer. Moreover, you can match your outfits with the backdrop to blend in with the nature.
Play with natural lights

Light plays a crucial role when you are looking for outdoor maternity photoshoot ideas. Just after sunrise or just before sunset work as a goldilocks zone, as images captured around these times have a distinct golden radiance, which elevates the mood of an image.
Maternity photoshoot beach ideas
Spruce up your baby bump photos with roll of waters as your backdrop. Beach is an exquisite location to let your hair down. Just hold your partner's hands and walk slowly. Let one hand of yours rest on your baby bump. This is a classic shot which mixed emotional content with simplicity but if you want to make it more dramatic, you and your partner can do a dance or slow jog. Start with a shoreline but don't shy away from entering into the water.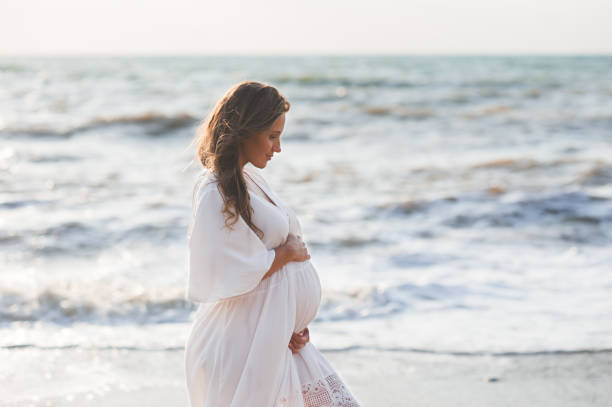 Maternity photoshoot gowns are a must have in your wardrobe when you are planning for a beach photoshoot. Women are fond of flowy floral dresses and maternity photoshoot ideas are brimmed with trail gowns that work perfect for you. Find best gowns that suit your taste. If planning a photoshoot in the evening, either you can slip into an elegant ruffle sleeved gowns or tuck yourself into a simple A-line dress but make sure it is in pink, blue or yellow hues to colour coordinate with the sky. If you are a person who like soft or pastel colours, then choose outfits or gowns in those colours. Play with the colour palette and choose a gradient that goes with your skin tone.
When to carry out a maternity photoshoot?
Maternity photoshoot ideas are aplenty, but it is extremely crucial to plan your photoshoot. It is a strict no to even think of it when you are stressed. Stress blots in your face making smile to disappear. When smile, which is a most beautiful curve apart from your bump of course, is absent in your images, then no prop or setting can come for rescue.
Having said that, plan your photoshoot around 7th or 8th month which is precisely between 30 – 36 weeks. Around this time, the mystery is out and your bump starts to show.
Planning it at an eleventh hour will make your body uncomfortable and will tire you out. Also, last trimester could be kept for shopping for you and your soon- to- be- born baby essentials like hospital bag kit, Maternity and Diaper bags etc.